Giving false hope.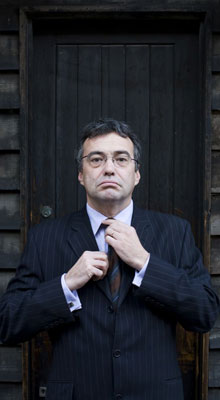 Whenever a politician says that they want to have a debate, they don't really mean a debate in the terms that us mere mortals interpret it, as in an informed exchange of views possibly leading to changing of opinions. They mean a debate where they can control the flow of information, where they're fairly certain of what the outcome of the debate will be, and where they themselves can then close down the debate should it get out of hand.
When Phil Woolas then says that he wants a "mature debate" on immigration
he means that he wants to get in first, set the tone for where the debate is going to go and also knows already what the policy outcome of said mature debate is going to be. A sure-fire way to get a mature debate going is by
poisoning the well
. According to Woolas, the lawyers and charities working on behalf of asylum seekers, for example, are not doing so out of compassion, the goodness of their hearts or because no one else will,
but because they're an industry
. By being an industry, they are in actual fact playing the system, giving false hope and causing more harm than good. Similarly, at least half of those that come to this country and claim asylum are not fleeing persecution, but are instead just pretending to be, play-acting as having suffered in order to be admitted when they are nothing more than simple economic migrants. Woolas also said that an asylum seeker than had succeeded in staying here after going through six layers of appeal "had no right to be in this country but I'm sure there is an industry out there [with] a vested interest."
How right he is. There are companies and individuals out there that have a vested interest in the asylum process. One such is
Kalyx
(they "care for immigration detainees with compassion and understanding"), a business with a social purpose, that was ranked as the worst performer of ten in an investigation into
racism in detention centres
, where detainees described "banter and taunting as ... part of the natural relationship between a detainee and custody officer".
Similarly, despite the best efforts of this industry and its attempts at undermining the law, it failed in managing to stop
Ama Sumani from being deported back to Ghana
, despite the fact that she could not receive treatment there for her cancer. She survived for just two months, and died before the £70,000 that her supporters managed to raise for her could be sent to her.
The Lancet called it "atrocious barbarism"
. It took the intervention of the former ambassador to Uzbekistan
to potentially save the life of Jahongir Sidikov
, an opposition activist that faced almost certain torture and possible death if sent back, as he very nearly was.
We can instead leave the real undermining of the law to the politicians themselves. In June
Jacqui Smith declared that homosexuals could be deported back to Iran
as long as they were "discreet". Earlier in the year it decided that up to 1,400 Iraqis could be sent back to their home country as
"ordinary individual Iraqi citizens were not at serious risk from indiscriminate violence"
.
1,000 Zimbabweans were also destined to be sent back to enjoy the rule of Robert Mugabe
, where a coalition government is still yet to be sworn in. Additionally, last year the Joint Committee on Human Rights
issued a report which said the government was using the policy of "destitution" deliberately
against asylum seekers in order to force them out, and generally make things as unpleasant as possible.
An independent review of the asylum system
found that it was "marred by inhumanity in its treatment of the vulnerable" and that it was "denying sanctuary to those entitled to it".
It's been apparent from the beginning that Woolas was appointed immigration minister in order to get up the arses of the likes of the Sun and the Mail and stay there. At a recent CBI conference
Woolas argued that Sun readers had an "intelligent" grasp of the immigration debate, who understood "complex issues better than so-called experts"
. Woolas' comments on asylum seekers' lawyers
are today being approvingly run
alongside the "bogus asylum seekers" phraseology
which has been banned by the PCC
for being a contradiction in terms.
On tackling the BNP, Woolas says that "[I]n a democracy you've got to beat them, and you don't beat them by pandering to them. You beat them by thumping them politically in the face." What's apparent is that Woolas intends to beat them by stealing their very rhetoric, thumping them politically in the face by taking their lies and distortions and presenting it as fact in order to influence a debate. This is the very worst way to try to tackle the grievances which the likes of the BNP give rise to. By stealing their rhetoric you give the impression that you're going to implement their policies; thankfully, even the likes of Woolas have no intention of doing that, and they can't on asylum seekers in any case because of our international obligations. This though only leads to the likes of the Sun building a minister up to them bring them crashing down harder than they ever thought possible when their words don't turn into actions. John Reid experienced this: he talked tough, told them exactly what he was going to do only to predictably fail, with the result being his appearance on the paper's front page minus a brain.

This would be fine if it didn't have implications on the ground. But it does. Rhetoric against asylum seekers isn't just used against asylum seekers, it's used against immigrants as a whole, especially those who have recently moved into communities and are as a result instantly noticeable. By suggesting that asylum seekers' lawyers and charitable organisations play the system when they are in fact only trying to do the best they can, and when the government itself has been so repeatedly criticised for its treatment of them is not just unpleasant, it is downright risible. The false hope for many who seek refuge here is that they will be treated with respect, that they will be welcomed into a society which puts the treatment of the vulnerable as amongst the very top of its priorities. Instead they often find themselves locked up, racially abused, and used to score political points in the most base manner. Phil Woolas ought to be absolutely ashamed of himself.
Labels: asylum seekers, immigration, immigration policy, Phil Woolas