The grim calculus of death.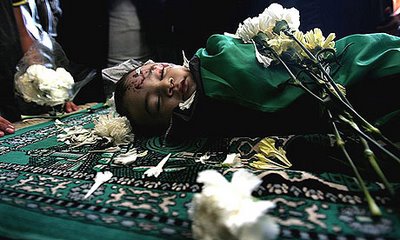 13 - the number of Israelis killed by the
pitiful hand-constructed rockets launched from the Gaza strip by the various militant groups there since 2001
, a number which prompted Israel's deputy defence minister to warn of a
"bigger shoah"
, the Hebrew word normally only used to refer to the Holocaust.
16 - the number of Palestinian civilians
killed just today in air and artillery strikes in the Gaza strip
. 70 Palestinians have been killed since Wednesday, of whom at least 32 were civilians.
Labels: idiocy, Israel-Palestine, number crunching