No easy answers, but Cameron tries anyway.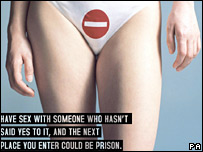 If you were a politician and had to pick a crime to
give a 20-minute speech about
while launching a sort of new policy on it, you'd be hard pressed to find one more welcoming and with less potential pitfalls than that of rape. Rape isn't quite murder, which poses an unique moral dilemma for all political parties (Bring back capital punishment? Life imprisonment that means life? Can you forgive a murderer, and can they rejoin society without being forever tainted?) but a crime of a similar magnitude where you can propose changes with few people likely to disagree with you because of the horrendous impact that rape undoubtedly has. Add into this how the government itself has over the last couple of years
been
freely
wondering
out loud
how it can bring the
conviction rate up
, and Cameron was left with something of an open goal.
Unity
and
Rhetorically Speaking
have gone into
Cameron's speech
in depth, Unity especially on the figures front, while
Channel 4 News's FactCheck section
looked into the statistics behind the claim that Britain has the lowest conviction rate in the EU, and found that while on the surface it looks accurate, with us sharing the ignominy with Sweden, if you go by number of convictions per head of population, we're about in the middle. It also discovered that we partially have such a low conviction rate because we also recorded the 4th most rape offences in the EU. The whole study underlines how difficult it is compare statistics on rape, both thanks to the differences in law systems, but also down to what the very definition of rape is.
Cameron's example of
the tragedy of Lindsay Armstrong
is also an especially extreme case. Armstrong killed herself after being cross-examined by the defence counsel, on two occasions having to hold up the underwear she had on on the night she was raped. The defence counsel was able to do this as Scotland had yet to implement the rules allowed in force in England and Wales which stopped the alleged perpetrator from cross-examinging the alleged victim, which also made clear that lawyers for the defence would only be able to bring up the past of sexual history of the victim if they could prove it was relevant. Armstrong's parents say that Lindsay was a virgin, but that she liked wearing skimpy underwear, which the defence moved in on. Cameron is right to say that we should never forget cases such as Armstrong's, but the changes in the way courts deal with rape cases make any larger point almost moot.
No one will argue with Cameron's calls for more funding for centres that deal with rape, which is timely, but infinitely more questionable is his call for "cultural change". Despite polls that often suggest that some individuals put a certain amount of blame on women who either "dress provocatively" or who are raped while inebriated or consuming alcohol, Cameron quoting one by
Amnesty International (PDF), which as Unity points out, suggests that such views are more widespread in the older age groups than the youth of today, I find it hard to believe that rape is not already viewed as one of the most horrific, if not the most damaging crime which can be inflicted upon someone. This is simple common knowledge; like with Cameron's suggestion that sex education should emphasize that "no means no", it's almost suggesting that society doesn't understand the impact of the crime, or that because children aren't taught about consent that somehow in any way explains the low conviction rate. You don't need to be taught that no means no, it ought be already more than clear, especially at the age at which secondary sex education takes place. "Ignorance" has never been an excuse. He's on slightly surer ground when he mentions the increasing sexualisation of society, yet his claim that the low rate of conviction is somehow a moral failure, linked naturally with his rhetoric on the broken society is insulting: it's not for lack of trying, and it has nothing to do with a sudden descent in morals. Rape, like with prostitution, has always been with us and always will be with us.


All the statistics show that "stranger rape", the kind most feared, is still thankfully rare. Far more prevalent is rape as a means of control: whether from an abusive spouse or otherwise. It could be argued that it's attitudes to domestic violence, both within the police, the courts and wider society that still need to change. While rape conviction rates are still low, Cameron might have been better targeting that rather than going for the easier target.
Labels: crime policies, David Cameron, rape, Tories