Usmanov-watch: More purchasing of shares, as well as paintings.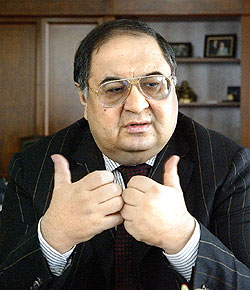 Great friend of this blog
Alisher Usmanov
is continuing his purchasing of Arsenal shares,
with the BBC reporting that he now possesses 21% through his Red and White Holdings company
, set up in conjunction with
Farhad Moshiri
. Danny Fizman is now the only remaining shareholder to own a higher percentage, of 24%.
All this has been going on while Usmanov's lawyers, Schillings, no doubt being handsomely renumerated for their "hard" work threatening bloggers, have been sending out cease and desist letters to anyone daring to criticise Usmanov, especially to newspapers, who have been informed that Usmanov's spell in prison during Soviet times was "politically motivated" and that he was pardoned by Gorbachev. Craig Murray's post on all things Usmanov is still available if you know where to look.
Usmanov's relationship with Uzbekistan's current brutal dictator,
Islom Karimov
, whose security services have been known
to rape prisoners with broken bottles
,
not to mention the odd case or two of boiling to death
, seems to be the basis for Usmanov's current attempts to further woo Putin and the Russian ruling class in general, despite owning the nominally liberal and oppositional
Kommersant newspaper
. Yesterday Usmanov paid over £25m to stop a Sotheby's auction of the art collection of the late Mstistlav Rostropovich, delighting the Russian government agency for culture, Roskultura, which described the collection as "invaluable".
According to the Grauniad, Sotheby's initially refused to name the purchaser
, only giving it once prompted, which seems to continue Usmanov's choice to stay in the shadows and send his legal attack dogs in first, despite the fact that his purchase of Arsenal shares is a cause of concern to the tens of thousands of fans across the world. Buying culture to impress the authoritarian Putin is one thing, buying a football club is quite another.
Labels: Alisher Usmanov, Arsenal, Russia, Schillings