Cascading immigrants from the Express, pontificating pop singers in the Sun.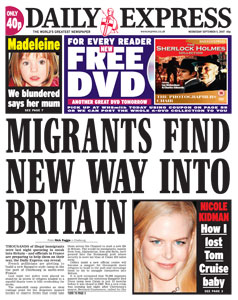 It's not difficult to become a "scholar" of the Daily Express. The front pages have at most 5 themes, to be exchanged and trotted out as and when is necessary. Firstly, the weather, that hardy perennial; next house prices; then Princess Diana, or the new Diana, whichever currently missing/dead young girl/woman, at the moment Madeleine McCann; immigration or asylum, and finally, whichever latest crime/insult/outrage/abduction Muslims/the Polish/aliens have been deemed to have committed.


Today, after most likely wearing out every possible lead on the people's Madeleine, and probably still smarting from the call for Diana to be finally laid to rest, it's time to pick on another dead horse: migrant skivers flooding into our green and pleasant land from France.



THOUSANDS of illegal immigrants were last night queueing to sneak into Britain – and officials in France are preparing to help them on their way, the Daily Express can reveal.

Ah yes, the perfidious French, always wanting to do one over on

les
ros bifs
.

French politicians are plotting to build a new Sangatte-style camp in the port of Cherbourg in north-west France.



Last night riot police were placed on stand-by as scores of refugees headed to a squalid shanty town in hills overlooking the docks.

For French politicians, read one French politician, the mayor of Cherbourg, who has called for proper facilities to be established, and not anywhere near the actual port, as the article admits further on in, but somewhere it would be easier to control what those at the camp were doing. Naturally, we're provided with quotes from the usual suspects:


Sir Andrew Green, of the think-tank MigrationWatch, told the Daily Express: "This looks like another Sangatte on the horizon.





"We will not tackle this problem until Britain ceases to be a soft touch.





"But yet again there is no reason why these people do not claim asylum in France."





Shadow Home Secretary David Davis said: "Some years ago David Blunkett promised the British ­people that he had reached a solution to this problem.



"Now we are finding out just how short-lived that solution was, and we are likely to see ever more Sangatte-style camps established.


All of which might be slightly familiar to the few remaining readers of the Express. Last month the paper printed an article almost exactly the same, except scaremongering about the possibility of people traffickers' operating from Cherbourg. It too featured, you guessed it, rent-a-quotes from "Sir" Andrew Green and David Davis:


Shadow Home Secretary David Davis said: "The Government has long since lost control of our borders. It is no good increasing security measures at one port, then leaving gaps elsewhere along our borders.





Sir Andrew Green, of pressure group MigrationWatch UK, said: "The Government has made a great deal of the new precautions it has put in place on the Calais to Dover route. It was only a matter of time before people- smugglers sought to try a different route. This looks like evidence that they have done so."




If at first you don't succeed, you might as well try again, slightly altering the article, consulting the same people and then submitting the article to the savouring editor. The journalist responsible in this case is Nick Fagge.
In fact, the horror of a new Sangatte has been a recurring theme in the Express. Back on the 14th of April the Express screamed
about the creation of a "new Sangatte"
, this time back in Calais, only for that to come to nothing, but not before the Express shouted about
"ANOTHER FRENCH BETRAYAL."
In June, in an report written by none other than Nick Fagge,
it claimed to have obtained the blueprints for "Sangatte 2"
, a facility soon to open which it compares to the Big Brother house, while the article features quotes from "Sir" Andrew Green and the Tories' immigration spokesman, Damian Green. The centre was said to be open within weeks; it appears to be yet to do so.
A quick recap then: immigrants haven't found a new way into Britain; politicians aren't plotting to help them on their way, rather they're trying to deal with the numbers of refugees; and David Davis and Andrew Green are still repetitive, brain-addled morons.


Meanwhile, over at the Sun, (somewhat via
Tim
) things aren't going much better. After
lambasting her hacks for failing to get an interview with Pete Doherty
, Rebekah Wade seems to have been ordered by Murdoch
to keep the Scum's headline sales above the 3 million mark whatever the cost
, leading to the price in the south east and London being slashed to 20 pence, and street vendors being recruited and ordered out onto the streets themselves. According to the Grauniad, this is all down to the London freesheets, especially the Metro. That must really hurt; have you ever actually picked up a copy of the Metro? There's about as much news in each copy as there is on the back of a fag packet, usually badly written and presented, but alongside all the usual celebrity tosh that fills up the pages of the Mail/Scum etc. When you can't compete with that, it really may be time to pack it all in.


Fortunately, the Scum lets those of us who wouldn't touch its actual pages without gloves on read it, warts and all, online. Where else could you read such delightful stories about Facebook without obvious disclaimers about the Sun's own interest in social-networking sites due to News Corporation's ownership of MySpace?

PRIVACY fears have been raised after Facebook opened up its membership database to other web search engines.

Well, quite. Just one single, small point to make: MySpace is already wide open to anyone who wants to search it, both from its own site, without membership, and from other search engines. While the article mentions all the foibles associated with Facebook,
it doesn't deign to note the fact that MurdochSpace was found to have 29,000 registered sex offenders with profiles
, only a few months after all of them were meant to have been deleted. Indeed, the Sun has never reported the fact, although virtually every other newspaper did.
Next up, we're informed of the political views of one of the members of Girls Aloud, that well-known social commentating pop group:



Breathtaking common sense! This is what we need, not Jacqui Smith, but Nicola Roberts as the home secretary! In fact, the Sun has kindly provided a comparison between the two, asking readers would they'd vote for. It's easy to see why Rebekah Wade is attracted to Ms Roberts' political viewpoints: they're both gorgeous pouting redheads, not afraid to say what they think, and although Roberts hasn't smacked anyone yet, like band-mate Cheryl Cole was previously alleged to have done, she probably has a stinging right hook to boot.

She's also got business nous to put alongside the musical achievements:

Nicola says: "I feel much more settled and confident now. I'm spending my money on houses rather than wasting it on silly things.

"When I was first in the band I didn't even know what the word mortgage meant."

Of course, if Roberts had said the complete opposite of the above,
that she felt like a thin majority of the public that prison doesn't work
and that it's not the fault of the politicians who have already put into place over 3,000 new criminal offences since they came to power, the Sun would have doubtlessly printed it up and ran highly approving comments on a young woman who was politically aware. Still, you can always rely on the comments to bring some levity to the situation:


shes the ugly 1 frm the sexiest band in the world, but i'd still do her

.


The Scum's leader also approves of what one commentator refers to as Ms Roberts'
enormous political acumen, experience and insight
:

As Girls Aloud's Nicola Roberts declares, there's an easy solution to prison overcrowding: build more jails.

It's come to something when a pop singer speaks more sense on tackling crime than the Government.

If only they'd thought of it before!




Someone kill me.
Labels: Express-watch, Girls Aloud, immgiration, migrants, MurdochSpace, Nicola Roberts, Scum-watch, Sun-watch