The devil weed returns.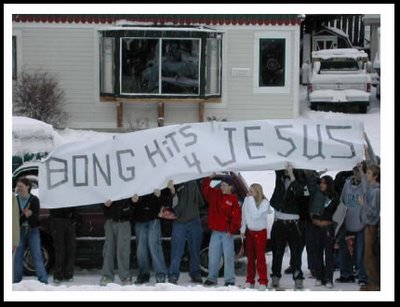 Is it possible to go a whole week without yet another scare story about cannabis causing collective psychosis in the media? The Grauniad, usually more immune than others to over-hyping scientific studies,
highlighted the scary figure that smoking the drug can increase the risk of schizophrenia by 40%
, which most of the rest of the media have picked up on.
Unity provides a lengthy fisk
, but the most important points are thus: firstly, smoking cannabis does not increases the risk of developing schizophrenia by 40%, it increases the risk of developing "any psychotic outcome", not just schizophrenia. Secondly, this quite wonderful figure of 40% needs to be put into context. The figure is taken from the statistic that 1 in 100 of the population have a chance of developing severe schizophrenia; according to the Lancet study, smoking cannabis increases this chance by 0.4%. In other words, an average user of cannabis, if there is such a thing, increases the possibility of developing "a psychotic outcome" by a massive 0.4%. Doesn't look so frightening now, does it? Unity additionally points out that that the 1 in 100 figure comes from the US, while the National Statistics Office puts the chance of developing a psychotic disorder here at 1 in 200, further lowering the risk.
The study really doesn't tell us anything we don't already know. Those under 18 are at greater risk from smoking cannabis, cannabis increases the risk of developing a psychotic illness, and those with a genetic disposition towards mental ill-health increase the risk of developing such a complaint by smoking cannabis. All these things have been known now for years, and have been considered by the Advisory Council on the Misuse of Drugs when coming to their conclusion that cannabis should be, and should remain, a Class C drug.
Still, we can at least be slightly sated that the Grauniad didn't jump to the sheer lunacy of the tabloids. The Mail and Sun, who also just happen to both be hysterical campaigners against the downgrading of cannabis to Class C, try to outdo each other with their own misleading articles. While both claim that smoking just one roll-up increases the risk by 41%,
the Mail tacks on the sensational tales of 3 murderers
, all of which it attempts to claim were in some way influenced by their use of cannabis. The Sun, on the other hand, just went straight for the jugular. Despite Rebekah Wade previously
going on a mental health training course
after she splashed "BONKERS BRUNO LOCKED UP" on the front page when he was sectioned, the piece is tastefully headlined
"'Psycho' risk from one joint".
Labels: cannabis, Grauniad-watch, Guardian-watch, Mail-watch, scaremongering, Scum-watch, Sun-watch