Your love alone is not enough.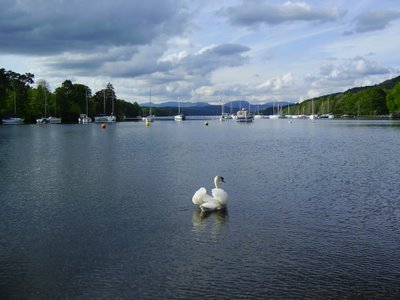 I'm a contrary motherfucker. Much as I dislike going away from this concrete, soulless hellhole which I call home, I quickly find that I enjoy myself much more than I ever would have expected.
We went to the Lake District, staying at Flookburgh, and traveled around most of the national park in the five days we were there. It's one of the few parts of Britain that I can say without caveats that I absolutely adore. The rolling countryside, winding, almost empty roads, the clearness of the lakes and refreshing, nourishing air. I haven't been in high season, when I expect the place is crowded to the rafters and much less enchanting as a result, but at this time of year its beauty is almost unsurpassed. Field after field and hill after hill are occupied by local, rarer breeds of sheep, many with newly born lambs in tow, skipping along, unaware of the likely slaughter to follow in a few months time, but for now at least without the slightest care in the world.
The photograph above was taken at
Fell Foot
, a National Trust owned small country park on the shore of Lake Windermere. We arrived at about quarter past five as the actual facilities were closing, which meant we had almost the entire place to ourselves until they locked the place up at around seven. The lush grass a few yards back from the lake was literally covered in dozens of rabbits which had come out to nibble and forage as the bulk of the public had gone, and most were so tame that you could go within a few feet without them dashing for cover. Tuesday had been something of a dull day, but at around six the sun finally put in an appearance, and for half an hour the lake was resplendent in the early evening light. The swan in the photograph, no doubt used to being fed by visitors, came right up to us and almost seemed to demand that we find something for it. Perturbed that we didn't have anything, it swam off, and it seems I caught its departure just right.
Cumbria seems to be one of the last few holdouts against complete Tescopoly. I only saw one the whole time we were there, which was heartening. Most of the towns in the district are also still individual, only the larger ones having the chain stores which blight and depress the rest of the land. We can but hope that it continues to stay that way.
Labels: hiatus, personal shit