Another grim milestone.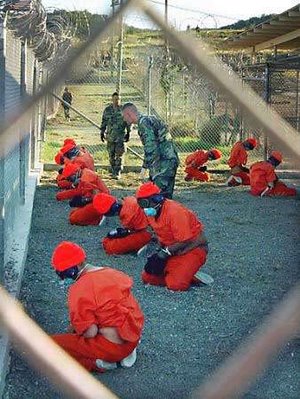 Today marks the fifth anniversary of the opening of Guantanamo Bay, where 9 British residents still languish,
apparently now more or less abandoned by the government
, with little to no hope of being set free any time soon.
The Guardian today reports that David Hicks, who the courts ordered be granted citizenship,
had it stripped from him again within hours by John Reid
, as he apparently err, poses a threat to national security, even though he's currently imprisoned in a prison camp described by
numerous New Labour ministers as an "affront to justice"
that should be closed down.
The only one of the 9 who might just be allowed back,
Bisher al-Rawi
, who was rewarded for keeping watch on
Abu Qutad
a (himself now in prison awaiting deportation to Jordan, if it ever happens) by being rendered with the connivance of MI5 from Gambia,
is according to his lawyer slipping into madness
.
I'm not usually one for casually slipping into conspiracy theories, but the whole circus surrounding al-Rawi and Qutada utterly stinks. Qutada, as well as being accused of being one of Osama bin Laden's right hand men, and the spiritual leader of al-Qaida in Europe,
was according to a 2004 Times article an MI5 double agent
, who pledged to help MI5 stop attacks in return for them leaving him alone. A similar offer may well have been made to Abu Hamza. Qutada instead seemed to be setting up his own terrorist network.
Apparently having al-Rawi also spying on Qutada
,
he became useless once Qutada himself was arrested in October 2002
, having been on the run since the previous December. Upon leaving Britain to go to Gambia, al-Rawi and his friend Jamil El Banna were questioned by security officers about a battery charger that al-Rawi had modified. Concluding it was harmless, they let them go, only for MI5 to alert the CIA that al-Rawi was in fact carrying bomb parts. They swooped once they arrived in Gambia, and al-Rawi and Banna were rendered to Guantanamo.
I previously wondered whether al-Rawi might be the only one allowed back
, in return for keeping quiet about his spying on Qutada. What seems apparent now is that Britain is only prepared to have al-Rawi back in no fit state to talk about anything.
Some can reasonably argue that Britain has no legal obligation to have those still held at Guantanamo returned. This might be true had Britain entirely washed its hands off them, yet it clearly hasn't. That ministers and others have time and again now condemned the prison camp, yet aren't willing to take back those who we have a responsibility to is also the height of double standards. The main problem is that now having spent years in a prison camp where conditions a
re according to Clive Stafford Smith the harshest he has experienced in twenty years of representing those on death row
, there's little chance of trying them for any of the crimes they've been accused of. The injustice of holding men without charge, beyond the Geneva Conventions,
at least up until the passing of the new laws earlier in the year by the Bush administration
, means that there will now be little chance of justice for anyone. Hence the Catch-22 situation continues, for now and maybe evermore.
Labels: Bisher al-Rawi, Guantanamo, injustice