Scum-watch: Various bits and bobs.
Warning: Hardly any of the links on this post are safe for work, or in some cases, life itself.
Looks like Murdoch forgot to tell Wade that the deal with OJ Simpson was off. Despite
two puff-pieces about the show
and book appearing in the Scum
, one of which has a lot of what looks highly like exclusive material,
there's been no report of Murdoch's statement on Monday
,
cancelling both
.
More stupidity occurred when the Sun, splashing on the setting up of a website naming those who are being sought for failing to comply with notification requirements under the 2003 Sexual Offences act, used the headline "PERVHUNT.COM". It never crossed their minds to actually buy that domain and link it to the
actual page
,
so one of the wags on popbitch.com did instead
. They then directed it to
page3.com/rookies
, where 3 barely legal 18-year-old ladies profile themselves. Says Danni:
Do you have a tattoo?
Yes, I have the Chinese symbol for angel on my lower back
Aww! How sweet!
pervhunt.com
does now actually point to the proper page, and
with whois.sc listing 4 changes to its history since the 17th
, it seems likely that some hard cash was exchanged in order for Wade's blushes to be spared,
although they quickly changed the rookies page URL
.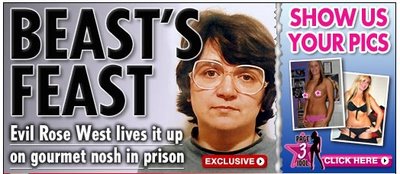 Keeping with the theme of sickening exploitation, the Sun currently has an advert for its pervtastic page 3 idol competition alongside the "news" that Rose West has been err, eating some food in prison.
On the page itself:
GIRLS! Don't forget to enter our Page 3 Idol contest.

The winner nets a Sun modelling deal, exotic photoshoot and £5,000.

To enter, post a pic of yourself topless or in bikini to Page 3 Idol, The Sun, 1 Virginia St, London E98 1SN. Or email to page3idol@the-sun.co.uk.

Give your name, age and daytime number. You must be 18 or over and silicone-free. Every usable entry will be posted on our website.

To see our new contestants visit www.page3.com/page3idol.
Welcome then to the sleaziest and cheapest leering lads competition in Britain.
And they can't only view pages and pages
(I count 40, with more yet to come) of young women undressing for a national newspaper with the distant prospect of winning a paltry £5,000, you can also go and see them do it live, in a Miss World type competition where the swimsuit contest turns into one involving wet t-shirts instead:
In addition to this, far be it from me to suggest that some of the girls might lie about their age, but there doesn't seem to be much of a safeguard against under-age teenagers sending in photographs of themselves in a state of undress. That would be awful, wouldn't it, the self-proclaimed scourge of paedophiles everywhere hosting photographs of under-age girls on her newspaper's website. Let's hope to God that doesn't happen.
Not content with giving over their page 3 site to all and sundry who wish to send in out of focus photographs of their sacks of fat, the page also encourages women everywhere to sign up to MySun, and get them out there too!
We want YOU to appear on MY Sun!

IF you're a Page 3 wannabe then you can post your profile online right now.

Publish your picture on our superb community site MY Sun and get other readers to read your blog, comment on you and spark debates about whatever you fancy.

To join in now, all you have to do is click here.
Ah yes,
MySun
. This is the Scum's attempt to build a MySpace style community around its newspaper. Like the newspaper (and, like MySpace) it's a collection of the banal, the bullshit and the bastards. Today's profile of the day is "
Jennerotic
", whose photograph seems to show the 23-year-old laying very close to her webcam. Naked. Her latest blog post, which will no doubt soon be a rival to Comment is Free for well-developed and involved political argument, is titled, Shall I have more cake........?
NOW.... After a nice long hot, soapy bath I've come to a decision of either having some cake or not? I know it (sic) late but it just tastes sooooooo great. So I'd thought I'll celerbrate (sic) ....
Faced with a photograph of Jennerotic coming out of the shower, her modesty protected by a towel, the salivating one-handed hordes on MySun get stuck in:
Hi Jennerotic, can I borrow that towel for a minute? ;)

You look well fit. Please, please, please post more piccies. Are you on Page 3 Idol?

Posted by: Badboy on November 22, 2006 at 11:35:48 AM

Ambassador, with this towel pic you are really teasing us! Can we have the pictures without the towel now?

Posted by: chucky on November 22, 2006 at 04:57:08 PM

Get back in the shower, I'll be there in 5 minutes :))

Posted by: MikeyMouse on November 22, 2006 at 07:50:50 PM
Away from the delights of Jennerotic, the current top discussion on MySun is the deeply thoughtful:
Who is the fittest soap babe on telly?
And as for the blog of the week:



Cornishcream is another of our Page 3 Idol contestants hoping to get a Sun modelling deal. Will she get your vote?



Maybe not, but she might get her fair share of wads, judging by her posted photographs. Badboy puts in another appearance, commenting on cornishcream's baps:
I am officially in love with you. You are so sexy and gorgeous! Where are the pics of your bum I asked for!? You've got to keep your public entertained, you know? ;) Very nice...

Posted by: Badboy on November 22, 2006 at 11:46:23 AM
Finally then, it's time for another of the Sun's favourite rituals, apart from the one alluded to above. Yes, it's BBC bashing time!
The bent BBC

THE BBC parades itself as a bastion of impartial news broadcasting.

Indeed this dubious claim forms part of its bid for a giant rise in funding.

Now we know better.

The Beeb is offering staff cash-for-questions to embarrass the government.

Staff can earn a £100 bounty for new angles on the honours saga.

What an insult. It's not even enough to pay the new licence fee.
Well, err, yeah, they were, for oh, a whole couple of hours, before they withdrew the offer, realising that it was in their words, inappropriate.
How completely unlike the Sun,
which on its own website urges readers to text, phone and send in their own pictures of the day's news
, with the illustrative mobile flashing the £ just to get the message across. We could also mention
Rebekah Wade's confession to a parliamentary committee that she had paid police officers for information
, but that would be unfair. Similarly, it would be entirely uncalled for to point out
that the Sun was the newspaper which most echoed the government's line on the Iraq war
. Or, for instance,
how Fox News is about as fair and balanced as a banana
. That the Sun still gets away with its shameless attacks on the BBC when
BSkyB just cynically scuppered attempts by NTL to take control of ITV
, further enhancing Murdoch's grip on the British media, shows just how much power we've already given away to this unelected, unaccountable Australian-American megalomaniac.
Labels: My Sun, page 3 idol, Rebekah Wade, Rupert Murdoch, Scum-watch, Sun-watch, wading knee-deep through the internet sewer