Tit for tat, or Tehran for Jerusalem.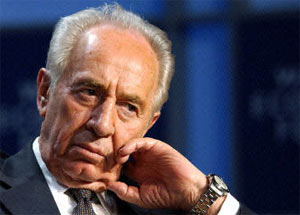 Shimon Peres is one of the more likeable Israeli politicians, a man who at one time was dedicated to a just peace with the Palestinians. In these days of unilaterism, he seems to have become more and more resigned to "peace" having to be imposed, the view of Sharon and now Ehud Olmert. Even so, few would have thought he would make similar remarks to what Iranian President Mahmoud Ahmedinejad supposedly made about wiping Israel off the map.
Peres, speaking ahead of UN Security Council deliberations on possible sanctions on Iran, cautioned Monday that Iranian President Mahmoud Ahmedinejad, who has called for Israel to be wiped off the map, should bear in mind that his own country could also be destroyed.

"They want to wipe out Israel... Now when it comes to destruction, Iran too can be destroyed [but] I don't suggest to say an eye for an eye," Peres told Reuters.

"Israel would defend itself under any condition but we don't look upon it as an Iranian-Israeli conflict exclusively... [Iran] is basically a danger to the world, not just to us," he said.

In a way, he's right. Even if Iran does eventually manage to manufacture a nuclear weapon, it still faces a nuclear armed Israel with far more missiles and the backing of the United States, which is encircling Iran, with bases in Iraq, Afghanistan and the friendly regime of Musharraf in power in Pakistan. Any attack by Iran would be pure suicide, and the old doctrine of MAD (mutually assured destruction) would likely be invoked. Even so, it doesn't excuse such a silly remark, or his ridiculous assertion that Iran has started a nuclear arms race in the area. Wouldn't be to anything to do with all those weapons that Israel has, or the influence of the Pakistan scientist who sold nuclear secrets for money after India and Pakistan had established their programmes, would it?
Nevertheless, there are some who continue to convincingly claim that Ahmedinejad has been badly translated.
Juan Cole has repeatedly made this clear.
For his trouble, Cole has come under repeated smear from the voracious US right.
Christopher Hitchens, a former hero of mine for his call for Henry Kissinger to be tried for war crimes, has been the most mainstream of his critics to claim that he has been distorting the truth.
Cole has also had the privilege of having the barking mad Wall Street Journal comment pages smearing him. The issue goes to the heart of what we know about Iran and its president. If we can't be certain of what he has actually said, and what context he has said it in, how can be so sure of what threat Tehran actually poses? The attacks on Cole show that some are determined that there should be no middle line or nuance on Iran. Those that led us into the disaster in Iraq still aren't satisfied,
and as Cole so passionately states
, if we don't stop them they will do it again.