Express-watch: More asylum distortions.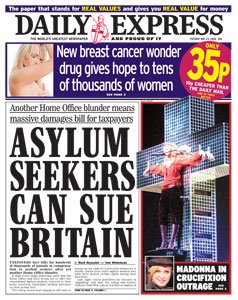 As is usual with the Express, the headline and the story have very little connection. In this case, the asylum seekers who sued were both torture victims who had fled from their own countries. They had been detained at the Oakington reception centre in Cambridgeshire, where they were meant to be examined by medical staff within 24 hours, as stipulated in Rule 34 of the 2001 Detention Centre Rules. They were in fact detained for six days before they were eventually released.
The judge, Mr Justice Collins ruled that "K", when eventually seen by a nurse, had injuries and scars which were consistent with inflicted injuries. While the other claimant, "D" was more difficult to assess, he ruled that an examination would have resulted in her also being released. Rule 34 had been introduced to safeguard torture victims from being detained while their claims were "fast-tracked", and as the rule introduced by the government stipulates that they must be examined within 24 hours, they were liable for damages, as they had been wrongly denied an exam within that time.
Mr Justice Collins also added:
[my] decision should not be seen "as a charter for others seeking asylum in the UK to claim, or to seek to obtain legal aid for claiming, financial compensation for allegedly unlawful detention for short periods of time under the fast-track process."
So if others are looking to exploit this ruling, it seems unlikely that they will get very far. If the government can't guarantee that asylum seekers will be examined within 24 hours at its own detention centres, then it shouldn't have put such a restrictive time limit into the bill. Indeed, unlike recent "Human Rights" decisions, the Home Office was magnanimous:
"The Home Office accepts today's judgment and regrets that these individuals were not seen by medical practitioners within 24 hours of their arrival and is committed to learning lessons from this incident.

"The Home Office takes very seriously the issue of healthcare within its removal centres and the health of all detainees is monitored closely, which includes access to primary and secondary medical facilities, including psychiatric professionals."
By coincedence, yesterday saw the issuing of a report from the Church of England which accused the government of draconian treatment of asylum seekers.
The most savage criticism was of the treatment of asylum seekers. "The government must lead rather than follow public opinion on immigration, refugee and asylum policy. Specifically, asylum seekers should be allowed to sustain themselves and contribute to society through paid work. It is unaccceptable to use destitution as a tool of coercion when dealing with 'refused' asylum seekers."
When we have newspapers which day after day print distortions about immigrants or asylum seekers, what chance does public opinion have? Thankfully, some are trying to readdress the balance.
Natasha Walter has wrote an article about female refugees and their struggle to be heard over on Comment is Free.