Sun-watch: A non-existent scandal over "al-Qaida man" in parliament.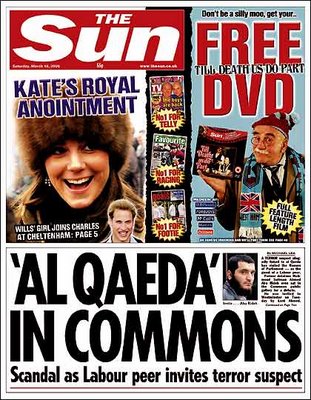 The Sun is predictably outraged today that a man under a control order was allowed to visit the Houses of Parliament. Invited by a Labour peer, Lord Ahmed, he apparently discussed his case with him before sitting in the public gallery during a commons debate. The supposed al-Qaida suspect is the Mahmoud Suliman Ahmed Abu Rideh, a Jordanian who was previously held in Broadmoor as he is suspected of having links to international terrorism.

That's about as far as the story in the Sun goes, which unsurprisingly doesn't give you much of the man's background, and also contains at least one mistake. The Sun says:

The SIAC bailed him in 2003 and gave him a Control Order, which places restrictions on his freedom outside.


Except that control orders didn't come in until 2005, which was when he was bailed. A better summary of Abu Rideh's background is this Guardian article:

Mahmoud Abu Rideh came to Britain as an asylum seeker in 1995 and was treated for severe post-traumatic stress disorder following his alleged torture at the hands of the Israelis as a teenager living in Gaza.

He was arrested at his home in Surrey on December 17 2001 and has been in detention, first at Belmarsh and now in Broadmoor high security psychiatric hospital, ever since.

The home secretary accuses Mr Abu Rideh of being "an active supporter of various international terrorist groups, including those with links to Osama bin Laden's terrorist network", with activities including fundraising.

Yesterday, the Special Immigration Appeals Commission said that Mr Abu Nideh "was and remains in our view committed to the extremist views, delusions even, which motivated at least some of what he did before detention".

However, it went on to express compassion for the man and the state of his mental health which went into freefall following his detention at Belmarsh.

The judgment says he "genuinely feels a sense of hopelessness and that he is in a growing state of dependency and institutionalisation which is likely to make him rather less able to cope with life outside when he is released, the later that is".

The commission had previously agreed with doctors at Broadmoor who argued that the high security hospital was not the place for Mr Abu Rideh. But the then home secretary, David Blunkett, refused to move him to a lower grade psychiatric hospital.

Last year, Mr Abu Rideh gave an interview to the Guardian at Broadmoor. He pulled up his shirtsleeves, revealing dozens of scars up and down his arms, inflicted using pens, plastic and anything else he can find.

He said that since his detention, he had been repeatedly harming himself, including drinking toilet cleaner and setting himself on fire.

The home secretary justifies the detentions of foreign terror suspects by pointing out that each of the men held is free to leave the UK and return home.

But as a Palestinian refugee Mr Abu Rideh is stateless. "Where can I go, please?"

He said his state of mind had deteriorated to the point where he would prefer to be executed.

"The hospital don't want me here. The Home Office don't want me to go back to prison. Give me an injection and I will be dead and they won't need to spend £140,000 a year on me being in this hospital."


Not only that, but his lawyers were told by police that:


Lawyers acting for Abu Rideh, a Palestinian also held at Broadmoor said police had told him that they knew he was no danger to the public.


And Abu Rideh is such a threat to the public that the police allow him to do the following:


The bizarre world of the government's controversial anti-terrorist control orders was yesterday revealed when one of the 10 men who had been detained in high-security institutions for more than three years walked into the Guardian offices without any security escort.

Highlighting the stark contradictions in the control orders, Mahmoud Abu Rideh, who had been detained without charge and trial in Belmarsh prison and Broadmoor psychiatric hospital, is kept under house arrest at night, but is able to roam freely under tagging during the day.

The Palestinian refugee, who was held for three-and-a-half years, says he cannot understand the double standards of the order, and said it was further exacerbating his psychiatric difficulties. He has been diagnosed as mentally ill.

In the first interview from any of the 10 detainees placed under control orders, he said: "I go everywhere now - on the underground, buses, the mosque. But I must be home by 7pm. People think I am dangerous, but I am not dangerous. The government is playing games. If I am a risk to security, why are they letting me out to be with people? I wouldn't do anything silly. I am not a dangerous man."

Mr Abu Rideh's control order says he is a key UK-based contact and provider of financial and logistical support to extreme Islamists with connections to al-Qaida. It says: "You belonged to and have provided support for a network of north African extremists directly involved in terrorist planning in the UK, including the use of toxic chemicals."

Mr Abu Rideh denies this is the case.

The control orders were rushed through parliament earlier this month in the face of widespread opposition. The contradictions inherent in them are clear from Mr Abu Rideh's experiences since being released on bail almost two weeks ago:

· He is not allowed to make arrangements to meet anybody, but he can drop in to see anyone if he does so unannounced;

· He cannot attend any pre-arranged meetings or gatherings, but was present at the anti-war demonstration at Hyde Park last Saturday. He says he stumbled across it while playing football in the park with his children;

· He is banned from having visitors to his home unless they are vetted in advance, but he is allowed to arrange to attend group prayers at a mosque;

· He thinks he is being followed on the tube, but if he calls a taxi, no one tails him.

Mr Abu Rideh told the Guardian that his confusion over how the control orders work, and his lack of support, led him to take a drug overdose last weekend. He was taken to Charing Cross hospital after he swallowed 35 tablets and was not released until Monday evening. He says he cannot bear to live under the conditions imposed by the home secretary.

He said: "I only want to kill myself. I don't want to kill anybody else. I am not a danger to anybody else, but this government has made me a danger to myself. It is just as bad to be free with a control order as it is in Belmarsh prison or Broadmoor hospital."


and also since then:


The vagaries of the government's controversial control orders were highlighted yesterday when a judge was forced to send an alleged international terrorist back to jail in spite of fears that the man would take his own life.

Mahmoud Abu Rideh, who suffers from a severe personality disorder, was sent to Brixton prison last week after he handed himself in at a police station in Fulham, west London, saying he did not want to wear the electronic tag his order stipulated should be round his leg from 7am to 7pm.

Yesterday he pleaded not guilty to breaching his restrictive order. Since he has been in Brixton he has twice tried to kill himself.


He has apparently been released again since then, but is still under a control order. The Sun appears to only have Rideh himself's word that he got into the public gallery, and seeing as it is apparent that he is either mentally ill or has a severe personality disorder, such statements should not be taken uncritically. As the Guardian articles make clear, the only person who this man is a threat to is himself. He is also under near permanent surveillance.

How convenient that this should come to light just as the Labour peerages for loans scandal is reaching its height, with the true amount of money lent them which was not declared being close to £14 million, and with John Prescott and Gordon Brown also not being informed of the loans. Isn't it strange that the Sun nearly always comes up with a "scandal" just as the government faces real trouble? It almost makes you wonder if they are being fed these stories from within Downing Street, just as it was strange how the Sun managed to gain a copy of the Hutton report the night before its findings were published. The Downing Street Echo, even in these days of Tory challenge, still seems to be staying loyal to the Blairs. For how much longer is anyone's guess.