Rendition: Compare and contrast.
The government last night admitted for the first time that aircraft suspected of being used by the CIA to transport detainees to secret interrogation centres had landed at British military airfields.

After months of refusing to answer questions from MPs or the media, it disclosed that two aircraft known to have been chartered by the CIA landed 14 times at RAF Northholt, west London, and RAF Brize Norton in Oxfordshire between October 2003 and May 2004.

One aircraft, a Boeing 737, was registered N313P, the other, a Gulfstream, was initially registered N379P and later as N8068V.

The flights were disclosed by Adam Ingram, the armed forces minister, in a letter to Sir Menzies Campbell, newly elected leader of the Liberal Democrats. Last week, the Liberal Democrats threatened to report the minister to the parliamentary ombudsman if he continued to refuse to answer detailed questions about flights suspected of being used for "extraordinary rendition" - the practice of sending detainees to camps where they were at risk of being tortured.

Sir Menzies was among a number of MPs of all parties, including Andrew Tyrie - the Conservative MP for Chichester who has set up a special parliamentary committee to investigate the flights - who have tabled questions about the flights since the Guardian published details of them last September.

In their replies, ministers have said that they either have no record of CIA flights since 1998, when they received four requests from the Clinton administration, or that records it might once have had had since been destroyed.

In his letter last night, Mr Ingram did not say the aircraft were used by the CIA, but the government has never denied they were. Mr Ingram also did not describe the purpose of the flights.

He insisted his disclosure was not "at odds with the foreign secretary's statements on the subject". Jack Straw has said that the government is "unaware" of any CIA flights landing in Britain or using UK airspace since 1998 and transporting terrorist suspects.
Q23...
JACK STRAW : ...Unless we all start to believe in conspiracy theories and that the officials are lying, that I am lying, that behind this there is some kind of secret state which is in league with some dark forces in the United States, and also let me say, we believe that Secretary Rice is lying, there simply is no truth in the claims that the United Kingdom has been involved in rendition full stop, because we have not been, and so what on earth a judicial inquiry would start to do I have no idea. I do not think it would be justified. While we are on this point, Chairman, can I say this? Some of the reports which are given credibility, including one this morning on the Today programme, are in the realms of the fantastic.
Both the N313P and N8068V were named as visiting those RAF bases last December in the Guardian: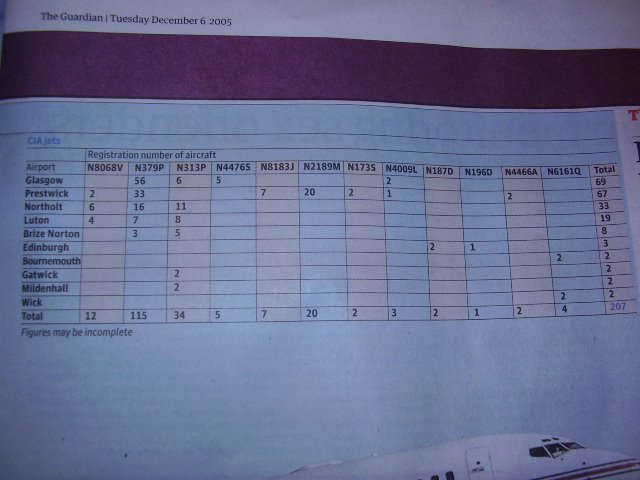 Seems strange that it has since then taken 3 months for the government to admit to that simple fact. Neither plane has been directly linked to known rendition flights, but both are known CIA jets. It's quite possible that there is an innocent explanation for their visits to those RAF bases, but if so, why has the government refused to admit to them visiting for so long? Has the government not been able to establish the purpose of the flights, or if it has, why has it not given the additional information which would clear them from being involved in rendition?
If we are not and have not been involved in rendition, full stop, as Jack Straw angrily told the foreign affairs committee, why has the government been so slow in giving any information at all about flights that have been identified by numerous sources now as landing in this country, whether simply for refueling or otherwise? Until the government is honest with us, it seems prudent to give "conspiracy theories" a thorough examination.